Team Pennsauken Holds Cornhole Fundraiser At Bobby Ray's On February 24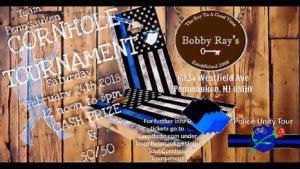 Team Pennsauken will be hosting a cornhole tournament fundraiser at Bobby's Ray's Pennsauken Tavern, 6324 Westfield Ave., on Saturday, Feb. 24, noon to 5:00 p.m. Cornhole is a fun lawn game in which players take turns throwing bags of corn or bean bags at a raised platform with a hole in the far end.
Showcase your cornhole skills with your friends; the first place team will take home a cash prize. The event is limited to 50 teams comprised of two people. Individuals can also come out for just food or drinks. In addition, there will be a 50/50 drawing and Team Pennsauken apparel will be available for purchase.
Teams must be registered by Feb. 19 All proceeds will benefit the Police Unity Tour, which raises awareness of law enforcement officers who have died in the line of duty. Participants must be 21 years old or older.
For purchase tickets or for more information, visit https://www.eventbrite.com/e/team-pennsauken-unity-tour-cornhole-tournament-tickets-41760631172.