Third Annual Pennsauken Job Fair Scheduled For September 15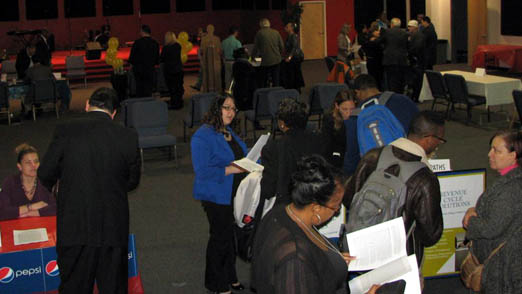 Pennsauken Township, the Business, Industry, and Government Council of Pennsauken, and Living Faith Christian Center are hosting the Township's third annual job fair on Thursday, Sept. 15. The event, held from 10:00 a.m. to 2:00 p.m. at Living Faith Christian Center, located at 2323 Rt. 73 in Pennsauken, will allow job seekers to connect with local businesses and organizations with open positions.
"We've had a lot of success with our past job fairs and we continue to remain focused on helping our residents find work," says Pennsauken Mayor John Kneib. "Our town's in a pretty unique position. Thanks to initiatives like NJ Grow, we have quite a few businesses moving into town from out of state that will need to hire locally."
At last year's event, over 900 job seekers met with over 20 businesses and organizations looking for hires; several individuals were hired on the spot and 100 percent of companies that responded to the post-event survey indicated that they found candidates that could fill immediate positions.
"We've had a lot businesses that look forward to coming back to Pennsauken's job fair each year due to the amount of qualified candidates the event attracts," says Larry Cardwell, Pennsauken Township Department of Economic Development. "Our job fair really benefits both local employers and job seekers."
Individuals unable to attend the event, or those looking to connect with potential employers in advance, can upload their resumé at http://www.twp.pennsauken.nj.us/content/pennsauken-job-fair-2016. Pennsauken's Economic Development department will share resumés with all the companies who participate in this year's job fair and will keep these electronic resumés on file for companies looking to hire employees in the future.
In addition, there will be a free pre-event job fair workshop held on Thursday, Sept. 8 at Living Faith Christian Center. Job seekers will learn important tips about attending the event, including how to dress to impress and important questions to ask potential employers. Additional details on this event will be posted at http://www.twp.pennsauken.nj.us/content/pennsauken-job-fair-2016 as they become available.
For more information about the Sept. 15 job fair, contact Terry Carr, (856) 665-1000 x153, tcarr@twp.pennsauken.nj.us; or Larry Cardwell, (856) 665-1000 x108, lcardwell@twp.pennsauken.nj.us.