Three Special Events Held This Month At Griffith Morgan House
Historic Griffith Morgan House, located at 243 Griffith Morgan Ln. in Pennsauken, will host three special events in October to bring history education, entertainment and family fun to the lovely historic house off River Rd.!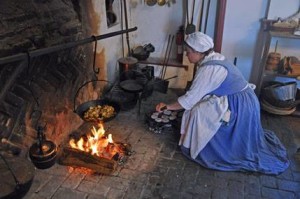 At the "First Sunday" open house on Sunday, Oct. 4 from 12:00 to 4:00 p.m., Griffith Morgan House will open a door on the lives of our colonial ancestors with a day of living history! The colonial open hearth will be lit and busy, as our hearth cooks prepare foods that sustained our ancestors. The new kitchen herb garden will furnish the flavors and healing powers that can grow in our own yards. Domestic arts and hospitality will also welcome our visitors and free tours of house and museum will be provided!
Next, on Saturday, Oct. 17, Griffith Morgan House will proudly present our first house concert fundraiser at 8:00 p.m. The performers will be the husband and wife duo, Debbie and Clyde Simpkins, known as "Tabernacle Turnpike." Their sound combines blues, country, standards, bluegrass, and originals written by Debbie. During 2015, they played monthly at "Cruise Night" at the Evergreen Dairy Bar in Medford.
The $20 admission price includes concert, refreshments and a tour of the house, and part of the proceeds will benefit Griffith Morgan House. Seating is limited; reservations may be obtained at the open house on Oct. 4 or by mail at Griffith Morgan House, P.O. Box 522, Pennsauken, NJ 08110. Please remember to include your e-mail address with your reservation! Paid admissions are non-refundable.
Finally, on Sunday, Oct. 25 from 11:00 a.m. to 3:00 p.m., Halloween comes to old Griffith Morgan House in a big way! Crafts and spooky lore of the season will join with tasty treats and a visit from our special guest, the Jersey Devil, for an eerie day of historic fun! Pumpkins to decorate, legends to tell and an old house to explore! What could be better? Admission, tours, and parking are free. Some activities may charge a nominal fee to help defray the cost.
For more information, visit the Griffith Morgan House on Facebook or call (856) 486-9561 and leave a message. Griffith Morgan House is also open for tours by appointment.