Township Committee Holds Reorganization Meeting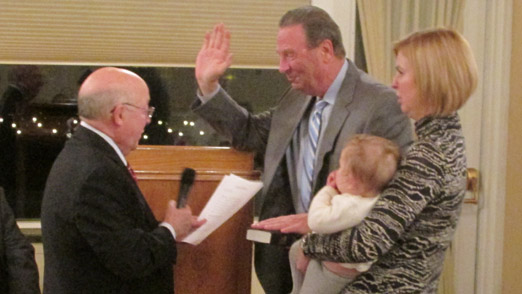 By Frank Sinatra, AAP Editor
An annual rite for Pennsauken's municipal government, the Township Committee held its annual reorganization meeting, swearing in its newly-elected officers and selecting the organization's leadership for 2016.
Mayor, Deputy Mayor Sworn In, Re-elected Officials Take Oath Of Office
John Kneib took the oaths of office as both a member of Committee and as Pennsauken's mayor for 2016 during the Committee's Reorganization Meeting held at the Pennsauken Country Club on Jan. 5. The swearing in of Mayor Kneib, Deputy Mayor Rick Taylor, and re-elected committeeman John Figueroa was conducted by Superior Court Judge Louis R. Meloni of Pennsauken. In addition, the Committee confirmed numerous appointments to various positions throughout the Township.
Members of the Township Committee took an opportunity to thank Taylor, who served as last year's mayor, for their leadership during 2015, as well as to congratulate Kneib on his appointment.
"I want to congratulate our outgoing mayor, Rick Taylor, for a job well done. He's a great leader, has a great sense of humor, stands by his word, and is full of Pennsauken every day," says Committeewoman Betsy McBride. "I'm also proud and honored to welcome John Kneib back as mayor. There's no sharper financial mind in Pennsauken, always watching the dollars and cents. He has his heart and soul promised for the betterment of our town."
McBride, the self-described "Green Lady" on Township Committee, encouraged residents to consider volunteering for organizations such as the Environmental or Shade Tree Commissions.
"As a matter of course, this meeting always has many of our most dedicated volunteers in Pennsauken. I wanted to thank you for the jobs that you do, whether paid or unpaid, to keep our Township growing and going in the right direction."
During Committeeman Figueroa's public remarks, he took the opportunity to share how much he enjoyed working with all the members of Pennsauken's Township Committee.
"It's been a pleasure to work with everybody here. They do a great job for this Township."
Figueroa also highlighted the two major objectives for the Committee this year: keeping taxes down and dealing with the issue of foreclosed homes and abandoned properties.
"We need to do this," explained Figueroa.
Jack Killion took time during his remarks to thank all of those committed to serving Pennsauken Township in various capacities.
"We've got a really good team here in Pennsauken," says Killion. "All the departments we oversee; they make our job up here easier because we've got good, quality people doing a good, quality job day in and day out. It's like a big family."
Deputy Mayor Taylor echoed Killion's sentiments. "All the people in this room certainly make us successful. They take the guff and we get all the credit. It's great to work with these people. Thank you for giving me the privilege to serve you again."
During his remarks, Mayor Kneib lauded the hard work of the Pennsauken Township's administrative staff, evident in having a tax collection of over 97 percent for the third straight year.
"It may seem like a mundane thing, but it's absolutely critical to keep everyone's taxes within reason. Credit has to be given to people like Ron Crane, Terry Carr, Larry Cardwell, Karen Dunn, Pat Huerta, John Dymond, and Danny O'Brien.
"Our administrative staff, bar none, is probably the finest in all of the municipalities here."
Kneib went on to recognize the work of Pennsauken's first responders: police, fire and EMS, as well as the Public Works department. "They do a phenomenal job."
"One of the things that makes our Township very unique is that my colleagues up here, we all have individual and unique aspects and talents. And they're different," added Kneib. "But what makes us work as a team is that we can take those differences and collaborate and absolutely draw on each other's strengths to make the proper decisions for the benefit of the Township. That's the uniqueness that makes this Township and Committee work. Along with our administrator and our solicitor, we make a very strong team that's effective in changing and effecting policy."
In closing, Mayor Kneib reflected on how Pennsauken is a Township filled with real and genuine people who truly care about the community they work and live in.
"If you really think about it, how many Townships have an organization like Pennsauken Neighbors Helping Neighbors? I don't know of any. And we owe that to Mayor Orth and what his vision was. And that's what Pennsauken is all about. We care about our community. The magnitude of what Pennsauken Neighbors Helping Neighbors has accomplished for our people is a testimony of who we are and what we are committed to as a Township Committee."