Waterlines – January 2018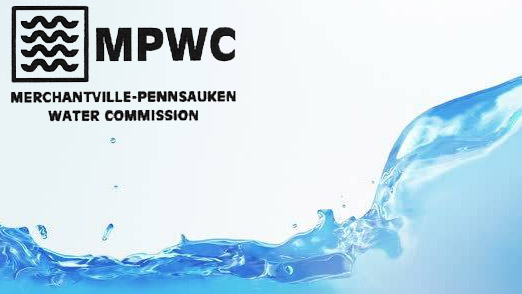 In this installment of Waterlines, the Merchantville-Pennsauken Water Commission discusses efforts to be compliant with 2017's Water Quality Accountability Act, the importance of "adopting" a hydrant, and more.
MPWC Prepares for Water Quality Accountability Act Compliance
In 2018, the Merchantville-Pennsauken Water Commission will be instituting compliancy with the Water Quality Accountability Act, which was passed in 2017. Compliancy mandates include an increase to schedule water main replacements; increased hydrant inspection and maintenance protocols; accelerated valve testing and inspection; and increased cyber security capabilities. While the MPWC has been continually budgeting for infrastructure maintenance and upgrades each year, to meet the standards imposed, we will be increasing water rates by two percent, which should have a nominal impact. For a customer who owns a single-family home, the average water bill per quarter is expected to increase by approximately $1.20 per quarter.
The new rates are effective January 1, 2018 and the adjusted rates can be viewed on our website, MPWC.com. Please feel free to contact our customer support center with any questions at (856) 663-0043.
Adopt-A-Hydrant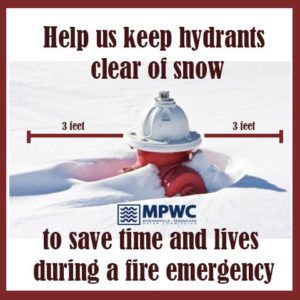 If you've signed up to participate in our Adopt-A-Hydrant project, remember to send us your pictures! If you're clearing your adopted hydrant of snow or other debris, snap a photo so that we can share it on our Facebook page!
If you're interested in learning about the MPWC's Adopt-A-Hydrant program, please visit the MPWC website at www.mpwc.com or e-mail hydrants@mpwc.com.
Individuals can participate by adopting a hydrant nearest their homes. This is also a great opportunity for scouts, civic groups or individuals looking to earn community service hours.
COLD WEATHER TIPS
Keep your meter warm this winter!  Water meters are prone to freezing, just like the pipes in your home.
Keep the area around your meter warm to prevent cracks and leaks. Meters that are damaged due to freezing temperatures will be replaced at the owner's expense. Follow these tips to help prevent frozen meters and pipes this season:
Keep the garage door closed (especially if the garage is attached to the house).
During a deep freeze, keep the thermostat set to the same temperature day and night. Lowering the thermostat could cause pipes to freeze.
If you're going out of town, drain the water system completely. Do this by shutting off the main valve and letting all the faucets in the home run until the system is empty (no more running water comes out of the tap).
Check for and fill in holes or cracks in exterior walls and foundations to prevent cold air from coming into the walls.
And remember to insulate and protect your water meter!