Wedding Announcement: Rivera-Shugars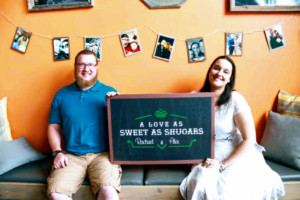 Reinaldo and Paulette Rivera are pleased to announce the upcoming wedding of their daughter, Rachael Rivera, to Alexander Shugars, son of Karen Shugars.
Rachael is the receptionist for Pennsauken's Department of Public Works and is the food columnist for All Around Pennsauken.
Alex is a commercial diver and works for both Hydro Marine Construction in Hainesport and Walker Diving Underwater Construction in Hammonton.
Rachael and Alex are marrying on September 23, 2017 at Camp Matollionequay in Medford, N.J. The bridal party includes Rey Rivera, man of honor; bridesmaids Kristen Davila and Kylar Coughlin; Jackson Shugars, junior best man; Jason Maybury, best man; and groomsmen Derek Napier and Kayden Maybury.
Want to announce an engagement or wedding? Contact aap@twp.pennsauken.nj.us for more information.