Welcoming A New Year And A New School Board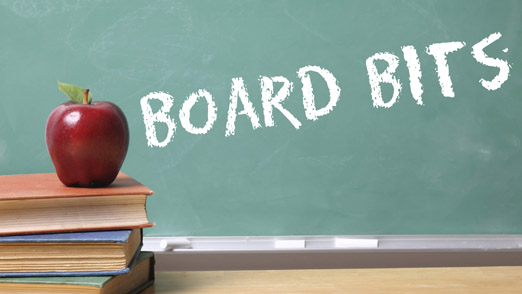 By the Pennsauken Board of Education: Nick Perry, President; Allyson Meloni-Scavuzzo, Vice President; Cheryl Duffy; Michael Hurley; Diane Johnson; Leona Moss; Jennifer Slattery; Orlando Viera; and JoAnn Young
As 2018 begins, Pennsauken School students and staff gear up for a new year after enjoying a long holiday break. The hallways will once again be filled with the hustle and bustle that accompanies each school day. While the District prepares for the beginning of the second half of the year, the Pennsauken Board of Education will undergo some significant changes.
Each year in January, immediately following the New Year, the Pennsauken Board of Education holds its annual re-organization meeting. This meeting serves two main purposes: it provides an opportunity for newly elected Board members to be sworn in and for the newly seated Board to elect its president and vice president.
The school board elections occurred in November, along with the general election in the state of New Jersey. This year, five Pennsauken Township residents ran for three open positions on the board. The successful candidates were Michael Bortnowski, Maria James, and Orlando Viera. Mike, Maria and Orlando will be sworn in at the re-organization meeting, which will be held on Tuesday, Jan. 2, 7:00 p.m., at Pennsauken High School. We wanted to take the opportunity in this article to introduce you to the new members of the Board.
Michael Bortnowski is a newer resident of Pennsauken Township, moving here two years. Recently married to his wife, Leyla, the couple is expecting their first child in July. Mike is a graduate of Rowan University with a degree in Health Promotion and Wellness Management. He is currently attending Villanova University and studying for his Masters in Public Administration. He is a certified firefighter and EMT and is working in the role of community outreach coordinator and liaison for Cooper University Healthcare. Mike has volunteered at various events in the community, including the Harvest Festival and Tippin's Pond clean up. He is thrilled to be able to have the opportunity to better serve the Pennsauken community.
Maria James has been a proud Pennsauken resident for the past 15 years. Maria is married with two children, both of whom are currently students in the Pennsauken School District. She is a licensed cosmetologist and has served on the cosmetology advisory committee at Pennsauken High School. She has been Longfellow Elementary School's PTA president since 2014. Maria also has served the community in various ways, such as being a PYAA assistant soccer coach and volunteering at the Harvest Festival and Tippin's Pond clean up.
Orlando Viera is a currently seated Board of Education member who won re-election in November. He has lived in Pennsauken for the past 22 years and is a 2007 graduate of Pennsauken High School. He is married with two children, one of whom is a new student in Pennsauken's Pre-K program. Orlando is employed by the Camden County Department of Health and Senior Services. He has been involved in the community is a variety of ways, including serving as a Youth in Action local, national and international volunteer for the past two years and has been a PYAA baseball and basketball coach for the past 10.
As the new members are welcomed on the Pennsauken Board of Education, two current members of the Board will be concluding their terms. Dr. Allyson Meloni-Scavuzzo, a seven-year veteran of the Board and the current Board vice president, will be completing her third term as a Board of Education member. Ms. Leona Moss, who has been seated on the Board for the past three and a half years, will also be finishing her term. We thank these Board members for their time and dedication to the children and residents of the Pennsauken community.
The Pennsauken Board of Education welcomes its new members and is excited to move forward in the New Year with many school district initiatives. As always, we greatly appreciate the support of our residents and look forward to making Pennsauken Schools even more successful!
Board Bit Of The Month
State law requires that the Board of Education hold its annual re-organization meeting within the first seven days of the New Year.