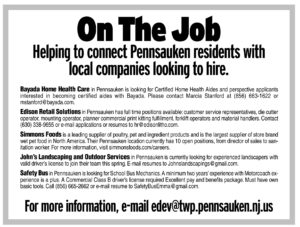 Click on this image for more information about local companies looking to hire! Featured are positions from:
Bayada Home Health Care
Edison Retail Solutions
Simmons Foods
John's Landscaping
Safety Bus
By Sonny DiSabato, Senior Citizen Coordinator
Hello fellow seniors.
Sponsored by the Pennsauken Education Association, the Senior Citizen Prom will be on Sunday, April 2 from 12:00 to 2:00 p.m. at the Pennsauken High School Cafeteria. This great annual event features lunch; great music to dance to, courtesy of High Noone Express; and the Optical Academy will also be on hand from 12:00 to 4:00 p.m. to provide eye exams. Immediately after the prom, seniors will be escorted to the auditorium to watch Pennsauken High School's performance of "The Wedding Singer." And it's all FREE to Pennsauken seniors!
Seniors can RSVP for the event by calling the Senior Citizen Coordinator's office at (856) 665-1000 x125. Please provide your full name, phone number, and number of people in your party.
A group of local police officers are joining together to honor the memories of those who lost their lives in the line of duty.
Team Pennsauken is made up of members of the Pennsauken and Merchantville Police Departments who will be riding bicycles with the Police Unity Tour Chapter II. The three-day Police Unity Tour will begin in South Jersey on Wednesday, May 10, 2017. The Tour will visit some of the towns where officers have fallen in the line of duty before departing New Jersey en route to the National Law Enforcement Memorial in Washington DC. The officers will bicycle close to 300 miles during the tour.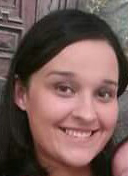 By Rachael Rivera, AAP Columnist
This month, some people will be focusing on basketball and all the March Madness. Others will be awaiting the glorious holiday that is Saint Patrick's Day. There are many different ways to celebrate this fun holiday.

By Judith Kristen, AAP Columnist
I guess it's because I was raised around so many Irish Catholic families that yours truly tips her Viking helmet happily, every year, in celebration and honor of St. Patrick's Day.
You know there's a quote I love that goes something like this: "You may not always remember what people said to you, but you will always remember how they made you feel."
And that's my forever connection to St. Paddy's Day – cozy feelings and happy memories.
By Frank Sinatra, AAP Editor
Pennsauken native Mike Niessen grew up in the Delair section of town and is a member of Pennsauken High School's graduating class of 1993. He just celebrated his 42 birthday in the ICU, where he's currently fighting for his life.
On March 10, Niessen was involved in a deadly, six-car accident that took the life of his longtime partner and fiancée, Danielle Allen, whom he planned to marry next month. According to his brother-in-law Chris DePietropolo, family and friends are unsure what Mike knows regarding the accident.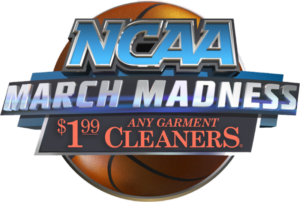 Any Garment Cleaners, located at the Route 70 and 38 intersection in Pennsauken by Harbor Freight, is holding its annual NCAA March Madness Bracket Challenge. Participants who fill in their bracket online have the opportunity to win a variety of prizes, including free dry cleaning for life for a 100 percent perfect bracket.
The guaranteed prizes for the three highest scoring contestants are:
First place wins free dry cleaning on garments during the entire month of April 2017
Two runner-up will receive 99 cents per garment dry cleaning during the entire month of April 2017, with no limit to the number of pieces
For a perfect bracket, Any Garment Cleaners is offering free dry cleaning for life
Online brackets are due by Thursday March 15, 2017 at 11:00 a.m. One entry per person. Prizes for dry cleaning garments; not applicable for laundered shirts and other services.
Do you have boxes and bags of sensitive personal or financial documents? Old bills with account information on them? Papers with signatures? Good news! The Pennsauken Environmental Commission is sponsoring an even bigger document shredding event this year, with two trucks available to protect your identity and personal data!

By Robert Fisher-Hughes, AAP Columnist and Amateur Historian
The world in 1892 was different, but people were much the same. Things new then are old now, but they persist in our lives. It was the year the Nutcracker ballet debuted in Tsarist Russia; the rules of the new game of basketball were published; and the character of Sherlock Holmes first appeared as a collection of stories in book form.