Monthly Archives:
June 2016
By Linda Tran, Pennsauken Intermediate Sixth Grade Student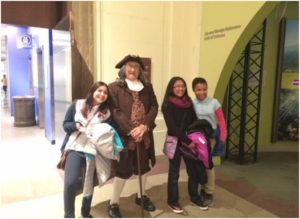 Earlier in the year, Pennsauken Intermediate school sixth graders went to Philadelphia to visit the famous Franklin Institute. There were many highlights. The Neural Climb is a two-story high climbing structure with dynamic lighting and sound effects that were triggered by your footsteps! Next in Sir Isaac's Loft, there were different types of devices, as well as little booths, such as the "Lift Yourself with Ease" machine, where you sit in a chair and figure out how to lift yourself using a series of pulleys and a rope. The biggest highlight was the Giant Heart, a gigantic replica of the heart that is two stories high.
Furthermore, if you love to shop, the Franklin Institute has a gift shop. The gift shop had a variety of things to purchase, such as candy, toys, and pencils. As you can see, this was an amazing trip. Sixth grade students had fun and learned the different aspects of science and especially the human body. This experience will truly last a lifetime!