Monthly Archives:
August 2017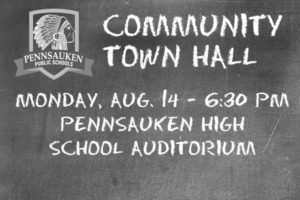 The Pennsauken School District is holding a Community Town Hall this evening, Monday, Aug. 14, 6:30 p.m., at the Pennsauken High School Auditorium, 800 Hylton Rd.
Members of the community are invited to learn about new academic course offerings and activities; meet the teachers for the high school's new career technical education classes; have questions answered about dual-credit courses; and learn how the Pennsauken School District is preparing students for the future.
For more information, call (856) 662-8505.