Monthly Archives:
October 2017

The Camden County Board of Chosen Freeholders will be holding a Town Hall and Freeholder meeting on Thursday, Oct. 19 at the Camden County Boathouse, 7050 N. Park Drive, Pennsauken.
UPDATE: While the Touch-A-Truck portion of today's event has been postponed because of rain, the Trunk or Treat is STILL HAPPENING from 1:00 p.m. to 4:00 p.m.
The Pennsauken School District and the Pennsauken Education Association are hosting a joint trunk or treat and touch-a-truck event on Sunday, Oct. 29 at Pennsauken High School, 800 Hylton Rd.
The Riverfront Village at Pennsauken was one of four real estate development projects honored with Governor's Excellence in Housing and Economic Development Awards at the 2017 Annual Governor's Conference on Housing and Economic Development.
David L. Frost, 83, of Brigantine, formerly of Pennsauken, passed away peacefully on October 13, 2017. Born in Camden, N.J., Dave dedicated over 40 years to the Camden School System, serving as a teacher, guidance counselor and, lastly, an administrator. He is predeceased by his beloved wife of 56 years, Connie (nee Cambern), whom he met in Texas while serving in the United States Air Force in 1956.
The Camden County Prosecutor's Office and Pennsauken Township Police Department are seeking the public's assistance in identifying a vehicle.
The vehicle shown below was possibly used during a home invasion that occurred at approximately 2:24 p.m. on October 3, 2017 on the 7500 block of Baxter Avenue in Pennsauken Township.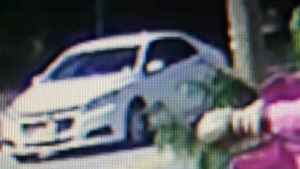 The suspects who entered the home are described as Hispanic males, wearing black hooded sweatshirts and black pants. The driver of the vehicle was described as a white or Hispanic male with a heavy build and a beard.
Members of the public should not approach the vehicle or attempt to apprehend these suspects, but should call 9-1-1 immediately.
Anyone with information is urged to contact one of the following numbers:
Camden County Prosecutor's Office Detective Peter Longo at (856) 580-5854 or Pennsauken Police Detective Aerika Long (856) 488-0080.
A community event planned for tomorrow is designed to be a show of support to local law enforcement.
The second annual "Back the Blue" Jeep Ride will be held on Saturday, Oct. 14; last year, over 100 jeep owners gathered at the Cherry Hill Mall and then traveled to the police stations in several communities to thank officers for their dedicated service.
This month, two popular Pennsauken events are combined into one: the Township's annual Haunted Hay Ride and the "Bite Night" Food Truck Event.