Community Health Fair And Free Backpack Giveaway On August 26
Serenity Christian Worship Center in Pennsauken is sponsoring a Community Health Fair and Free Back-To-School Backpack Giveaway on Saturday, Aug. 26, noon to 4:00 p.m. at East Pennsauken Park, located at Orchard Ave. and Haddonfield Rd., right across the street from the church.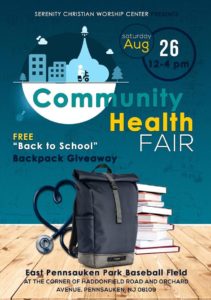 During this free community event, Lourdes Health System will be providing free blood pressure and glucose screenings; a nutritionist will be speaking on the importance of nutrition, diet and exercise; and informational brochures will be available to promote and inform our community on the importance to live a healthy lifestyle. In addition, face painting will be provided by Face Painting by Patti; there will also be fun activities for the children, free food and beverages, live entertainment, and much more.
Serenity Christian Worship Center will also be giving away 100 free backpacks filled with school supplies to help prepare the children in the community for the 2017-18 school year.
For more information or to reserve a free back pack, please call (856) 320-5808 or e-mail scwcommunityevents@gmail.com.