Local Veterans Remember Fallen Comrades At Memorial Day Events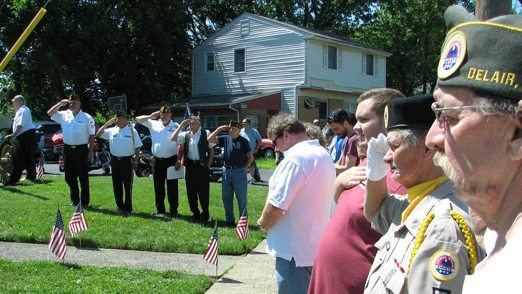 Throughout Memorial Day weekend, several local veteran groups will hold ceremonies to remember and honor those men and women who lost their lives in service of their country in the Armed Forces.
VFW Post 1270, located at 2324 Penn St. in Pennsauken, right off of Rt. 130 and Cove Rd., will hold its wreath laying ceremony on Sunday, May 24 at 11 a.m. The ceremony begins at the VFW Post, then moves to Liberty Park, located on the corner of Merchantville and Westfield avenues.
AMVETS Post 101, located 519 June Rd. in Delair, will hold its ceremony on Monday, May 25 at 11 a.m. The ceremony begins at the post, then moves to the World War II/Korean War memorial, located on River Rd.
F.W. Grigg Post 68 will hold its annual Memorial Day service on Monday, May 25 at Wellwood Park, located at Linden Maple avenues in Merchantville. The service will begin promptly at 10 a.m. This year's guest speaker will be Captain Joseph McGettigan USN Retired. Captain McGettigan is a former Pennsauken resident and Camden Catholic graduate.
Local Boy and Girl Scout units will present the colors. Additionally, local organization will place memorial wreaths on the World War I and World War II memorial monuments. In the event of rain, the service will be held at the Merchantville Community Center, 212 Somerset Ave. Merchantville, NJ.