Obituary: Bernadette Bierbach, Longtime School District Employee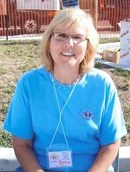 Pennsauken resident and long time school district employee Bernadette "Bernie" Bierbach (nee Loomis) passed away peacefully surrounded by her family on April 11 at the age of 56.
Bernie was the beloved wife of Carl R. Bierbach Jr.; devoted mother of Becky (Jeff) Zola and Carl R. Bierbach III; dear sister of Edward (Kathy) Loomis, Thomas (Mary) Loomis and Kenneth (Kimberly) Loomis; loving daughter in law of Suzanne Bierbach; cherished sister in law of Glenn (Linda) Bierbach and Dave Bierbach. She is also survived by many nieces and nephews.
Bernie was a long time teacher's assistant with the Pennsauken School District and a past President of the Pennsauken Teacher's Support Staff Association. She was passionate about working with the special needs children and was truly adored by all who came into her presence. She had a beautiful smile that would light up a room. She will be forever remembered by her loving ways and how she truly lived her life to the fullest.
Relatives and friends are invited to the visitation and funeral on Monday, April 17 from 7:00 to 9:00 p.m. and Tuesday, April 18 from 8:30 to 9:30 a.m. at the
Falco Caruso & Leonard Funeral Home
, 6600 Browning Rd., Pennsauken. A Mass of Christian Burial will be celebrated at 10:00 a.m. at
Saint Peter Roman Catholic Church
, 43 W. Maple Ave in Merchantville. Interment will be at Arlington Cemetery in Pennsauken.
For formation, condolences, and online guestbook, visit
CarsuoCare.com
.