Pennsauken Events Kick-Off Holidays, Season Of Giving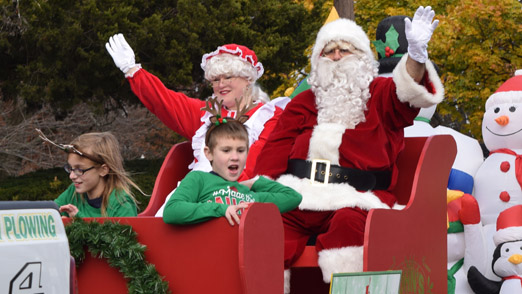 By Frank Sinatra, AAP Editor
It's that most wonderful time of the year: the start of the holiday season. Pennsauken Township truly embraces the holidays with events that not only provide the perfect opportunity to come together as a community, but also to remind residents about the importance of giving back. From holiday parades to angel trees, there's something happening in Pennsauken that's sure to get you into the holiday spirit.
Marching Into The Holidays With A Parade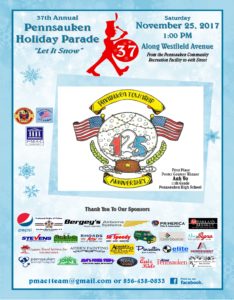 Pennsauken's 37th annual Holiday Parade will kick off at 1:00 p.m. on Saturday, Nov. 25. Sponsored by Pennsauken Township and the Pennsauken-Merchantville Area Chamber of Commerce, the parade is filled with fire engines, holiday-themed floats, and musical entertainment. This annual favorite for the young and the young at heart runs along Westfield Ave., beginning at the Pennsauken Community Recreation Facility and ending at 44th St.
"Our annual holiday parade is a wonderful Pennsauken tradition celebrated over three decades," says Pennsauken Mayor Betsy McBride. "This parade is the perfect opportunity for our residents to come together as a community and celebrate the season of giving."
Local businesses and organizations, like FOP Garden State Lodge #3, who made a $500 donation, have provided financial support to help make the parade possible. Opportunities remain to help make the 37th Holiday Parade one to remember. Financial and in-kind donations from area businesses are still being accepted.
In addition, community groups are encouraged to participate in the parade.  No contribution is too small and will go a long way to bringing joy and hope to Pennsauken families during this festive season.
For more information about the Holiday Parade, contact Pennsauken's Parks and Recreation Department at (856) 665-1000, ext. 151. Businesses interested in sponsorship opportunities can e-mail pmac1team@gmail.com.
Tree Lighting Held On November 30
After a highly successful reboot last year, Pennsauken Township's tree lighting ceremony returns on Thursday, Nov. 30, from 5:00 to 7:00 p.m. at the Township Municipal Complex, 5605 N. Crescent Blvd. The evergreen tree outside of the Municipal Building will be ornately decorated for the holidays; and several food trucks will be on hand for attendees to enjoy something to eat during the event. There will be performances of holiday music and Santa Claus will arrive via fire engine at 6:00 p.m. to light the tree. Residents are encouraged to bring their phones and cameras, as Santa will be available for photos with children after the tree lighting. There is no rain date for this event.
"We invite all of our residents to join us for this popular seasonal event," says McBride. "The Township's tree lighting is a great family event with plenty of festive cheer."
Breakfast With Santa
Another annual tradition is for children to have an opportunity to join Santa Claus for breakfast, from 8:30 to 11:00 a.m. Saturday, Dec. 2 at the PYAA Field House at Park and Elm avenues. There will also be face painting, music, balloon sculpting and gifts. Tickets are $6 for children and $9 for adults. The event is sponsored in part by the Pennsauken Education Association.
All tickets must be purchased in advance. For more information, call (856) 665-1000 ext. 151.
Angel Tree Program
Once again, Pennsauken residents and businesses are preparing to pitch in to help children in the community during the holiday season through the Angel Tree program.
Last year, over 50 Pennsauken families were helped through the Angel Tree program; the initiative for 2017 hopes to support the same number of families.
"Each and every year, the Pennsauken community really steps up for the Angel Tree program," says Elwood "Duke" Martz, director of Pennsauken's Parks and Recreation department. "A lot of residents, businesses, and organizations are extremely generous with a variety of donations."
Individuals can purchase a new, unwrapped toy and leave it at the Pennsauken Township Municipal Building, Route 130 and Merchantville Ave., from Nov. 27 through 4:00 p.m. on Monday, Dec. 18. Monetary donations are also greatly appreciated.
For more information or to volunteer for the Angel Tree program, contact Pennsauken's Parks and Recreation Department at (856) 665-1000, ext. 151.