Pennsauken Honors The Town's Best Mom and Dad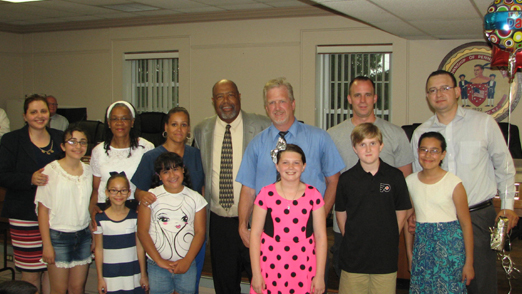 By Frank Sinatra, AAP Editor
A hard-working mom who takes care of 11 people – including the cats – and a dad who takes time off from work to spend time with his children were selected as this year's Best Mom and Dad in Pennsauken.
Sponsored by the Pennsauken Youth Action Committee, Best Mom and Dad is an essay contest that enables children in grades three, four, and five in any Pennsauken public, parochial, or private school to submit a letter stating why they believe that their mom or dad are the best. Letters were judged by a panel based on originality, content, and ability to express feelings or ideas.
The winning Best Mom essay was written by Lakyra Lassiter. "She is the sweetest, most generous, most hard-working person I know. She cooks us a hot meal every night; and what I mean by us is my two sisters, two brothers, aunt, uncle, dad, three cats and I. That's 11 people she has to care for, including the cats."
Lakyra spoke about how her mom "takes us to fun places and restaurants."
"She might get mad sometimes, but I know she does that because she loves us," adds Lassiter.
Nicole Garcia wrote the winning Best Dad essay and described his father as "a man who helps people in any situation." She spoke about her dad's work with Camden County's Council on Economic Opportunity, helping to weatherproof people's homes. He also is a children's ministry pastor.
"My dad also takes off time from work and uses it for us," adds Nicole. "Some dads don't ever see their family. God has provided me with the perfect father."
Several students received honorable mention as part of the very difficult selection process. Connor Casey received recognition for his essay about his father, who goes above and beyond to take him to hockey games; Teresa Crane, who spoke of her father's ability to fish, clean, cook and walk the dog; Dalia Abou Harb, who spoke of her mother's ability to be a "safe" and keep secrets; and Jaelyn Barrientos, whose mom "is the world to me."
The Pennsauken Youth Action Committee thanks all those students who participated in this year's contest, the teachers who encouraged them to write about their parents and guardians, as well as those caring and dedicated men and women throughout Pennsauken who inspire their children.