Pennsauken Kicks Off 125th Anniversary Celebration With A Special Event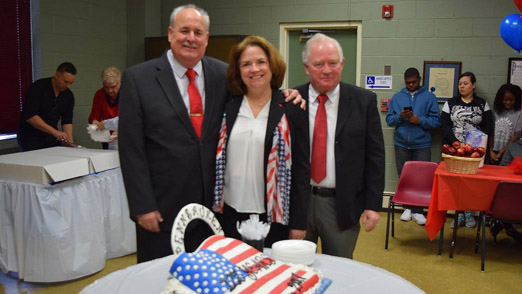 By Frank Sinatra, AAP Editor
Happy birthday Pennsauken!
The Township held a kickoff event at the Pennsauken Free Public Library on Feb. 18, the day 125 years earlier that an act of the legislature of the State of New Jersey established "the township of Pennsauken, in the county of Camden."
"Today we begin our year-long celebration of Pennsauken's 125th birthday," says Pennsauken Mayor Betsy McBride. "We're very proud of the history of Pennsauken. We're proud of how we're doing now. We're proud of what we have planned for the future."
The festivities included members of the cast of Pennsauken High School's production of "The Wedding Singer" leading attendees in the singing of "Happy Birthday;" a display of Pennsauken's historical landmarks, provided by the town's resident historian, Bob Fisher-Hughes; and the recognition of several proclamations from Congressman Donald Norcross, State Senate President Steve Sweeney, the Camden County Board of Freeholders, and from the Pennsauken Township Committee. But attendees were most excited to sample the custom made cake baked by Pennsauken native and Food Network star Al DiBartolo of DiBartolo Bakery, who was on hand to cut the first few pieces.
"I wouldn't be standing here without Pennsauken," explained DiBartolo. "The bakery was in Pennsauken on Marlton Pike from 1969 to 1991. My parents have lived in town for 40 years and I'm a graduate of Pennsauken High School. It's the people that make this town great. I'm very proud of Pennsauken."
And since it's customary for presents to be opened during a birthday celebration, those in attendance learned about some gifts that the entire town is sure to enjoy. First, DiBartolo Bakery, located at 667 Haddon Ave. in Collingswood, is offering every Pennsauken resident a discount for purchases made during the entire month of March. Just show an ID or some piece of documentation when you visit the store. Also, Deputy Mayor Jack Killion shared some very good news for residents.
"We're 99 percent sure that we're going to have on the municipal side a zero percent tax increase for the fifth straight year," says Killion. "Everyone in the Township's administration worked very hard to help us continue to do good things in town while being fiscally responsible."
The Township plans to continue celebrating Pennsauken's milestone anniversary in a variety of ways in the coming months. Here's what's being planned so far:
The Merchantville-Pennsauken Water Commission is installing a special 125th anniversary logo on its three million-gallon water tank, located on the corner of Park Ave. and Haddonfield Rd.
Special banners commemorating Pennsauken's 125th anniversary, which can be hung inside or outside of area businesses, are being offered to companies for purchase; see page 8 of this issue for details
As part of the Friends of the Pennsauken Free Public Library 10th annual Art Show and Sale this April, the organization is asking for submissions with a "Pennsauken" theme
A special "Pennsauken-opoly" game, filled with Township landmarks, is being developed as a keepsake for residents; see page 6 of this issue for details
Banners with the 125th anniversary logo have been installed around town and will line Pennsauken's major streets for the entire year
The Pennsauken Historical Society is working to create a special retrospective on the town's history, details to be forthcoming
"Our Town," the 1950s-era film that highlighted Pennsauken, is being aired on Channel 19; in addition, a new video, "Our Town… Today," will be produced by Pennsauken Television
Pennsauken High School's Chorus will be performing a vocal tribute to the Township, singing popular songs from a variety of different eras
As a signature event, the Township is also planning a gigantic community-wide celebration on Saturday, June 10. This event is not just for current residents; this party, filled with family-friendly entertainment, delicious food offerings and musical performances, is also a "homecoming" for those who have moved away from town.
"We have a proud history here and we've been blessed with many people who share in Pennsauken's growth," says McBride. "We're happy to have you and your children here as part of our future and we're glad you're here to help us celebrate."
For more information about the town's 125th anniversary, visit http://www.twp.pennsauken.nj.us/content/125-years.