Pennsauken's Bell A 2016 LOFT Video Game Innovation Fellow
The Entertainment Software Association (ESA) and the Hispanic Heritage Foundation (HHF) announced 15-year-old, Pennsauken resident Calvin Bell as a 2016 LOFT Video Game Innovation Fellow. The Fellows, who are minorities age 15-25, were selected for the original video games and apps they developed to address social issues in their communities. Bell presented his ideas to the White House, U.S. Congress, and national community leaders on Thursday, Nov. 17, and Friday, Nov. 18.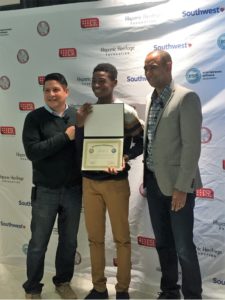 "Being a LOFT Video Game Innovative Fellow is a huge honor," says Bell, the youngest fellow out of the 20 chosen from hundreds of applicants. "I believe that as a LOFT Video Game Innovative Fellow, I should always embody determination, persistence, a will to learn new things, and always providing service to others and my community. Overall, I believe that as a fellow, I can give back to those who are helping me along my way to success as well as a being an advocate for change and a brighter future within my community and hopefully the world."
Calvin Bell's application is called Waste-To-Move. It aims to improve environmental stability within urban areas. It is a service application intent on promoting awareness to prevent environmental hazards and bringing communities together through technology.  It allows users to have first-hand conversations with their cities' environmental government agencies as well as with other users within the same communities to work together for the environment. Bell first began developing the application during his attendance at last summer's National Youth Leadership Forum (NYLF): Explore STEM, a unique academic experience that allows students to explore career possibilities in science, technology, engineering, and mathematics.
"Congratulations to Calvin Bell for his vision, creativity and social impact," said Jose Antonio Tijerino, President and CEO, Hispanic Heritage Foundation. "Through this creative partnership with the ESA, we engage youth on their terms through video games and apps to make a positive social impact," said Tijerino. "We believe there is a link from playing a video game to developing a game, computer coding, cybersecurity and other workforce gap areas America is desperately trying to fill. It is also important that minority youth are encouraged to be content creators, not just consumers."
"The ESA LOFT Video Game Innovation Fellowship underscores the fact that games are a valuable tool for positive change in our society," said Rich Taylor, senior vice president of communications and industry affairs at ESA. "We are proud to offer an opportunity that will help foster and promote creative thinking and innovation in minority communities, and cultivate future innovators of our industry, through the unique platform only video games can provide."
This is the fourth year of the ESA LOFT Video Game Innovation Fellowship and past awardees will be invited to attend the activities as well as connect with this year's Fellows for mentoring, to share ideas and collaboration. To see the Fellows' games, visit www.LOFTinnovation.org. To be updated with the activities, follow #ESALOFTFellowship.