Pennsauken's Finest Recognized During National Police Week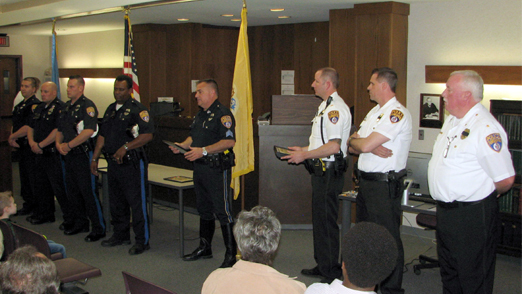 By Frank Sinatra, AAP Editor
During National Police Week, an annual event dedicated to not only honoring America's law enforcement community, but also remembering those officers that lost their lives in the line of duty for the safety and protection of others, the Pennsauken Police Department held a special awards ceremony to recognize the courageous men and women who go above and beyond to protect and serve the Pennsauken community.
"It's with great pride that the administration of this police department recognizes the daily efforts of officers who sometimes work under difficult circumstances and face a number of obstacles and manage to overcome them in a professional manner," says Captain Thomas Connor. "That is definitely not lost on us or the citizens.
"The theme here tonight is teamwork. By and large, these officers remain safe and are able to do their jobs because they work very, very well together."
The department's annual awards ceremony not only recognizes officers who go above and beyond the call of duty, but is also a way to memorialize Pennsauken Township police officers who have given the ultimate sacrifice in the line of duty: Richard Dawson, George Bowman, and William Brey.
The Richard Dawson Award for Meritorious Service annually honors officers that demonstrate exemplary performance of duty. The 2016 recipients are Lieutenant James Hartnett, Sergeant Chris Sulzbach, Sergeant Charles Bevins, Officer Craig Adair, Officer Mike Biazzo, Officer Brian Evans, Officer Aaron Goodwater, Officer Ryan Hurley, Officer Eric Kuppler, Detective Aerika Long, Detective Paul McCausland, Officer Jody Pasquale, Officer Mike Pennington, Detective Brian Polaski, Officer Juan Rivera, and Officer Gavin Rossner.
In addition, Sergeant Chris Sulzbach, Officer Shawn Sampson, Officer Vito Moles, Officer Peter Fabiani, Officer Mark Bristow, and Officer Ryan Hurley were recognized for their work during the investigation of the fatal hit and run that killed high school student Quason Turner, which resulted in the arrest of the driver. Also, Officer Ray Kern was honored for leading the Pennsauken Police Department in DWI arrests in 2015 and has been recognized by Mothers Against Drunk Driving for his work in the prevention of car crashes through DWI enforcement.
The George Bowman Memorial Award for Dedication and Professionalism is given annually to the officer who best exemplifies the dedication to police service demonstrated by Officer Bowman; this year's recipient was Detective Matt Henkel.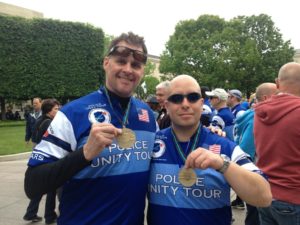 The Chief's Award for Leadership went to Lieutenant John Nettleton and Sergeant Phil Olivo, who rode their bicycles from Galloway Township to Washington, D.C. during the Police Unity Tour, in remembrance of fallen Pennsauken Township Police Officers, as well as to help raise funds for the National Law Enforcement Officer's Memorial and Museum.
The police also recognized the actions of citizens that assist the police in making the Pennsauken community safer. This year, the Pennsauken Police honored Joe Allen, Jamie Fania, Steven Pennington, Christina Probasco, Bruce Santino, and Kerin North.
"Whenever we need them, the residents never fail us," says Connor. "And they know that they can count on us as well. That will never change."
Finally, the Police Officer of the Year Award is given to a Pennsauken Police officer whose performance and dedication to his or her profession and character serves as an example to their fellow officers and brings credit to the agency. Candidates for this award are submitted by police supervisors and then voted on by the Pennsauken Police rank and file. The Police Officer of the Year for 2016 is Officer Richard Capone.
At the end of the awards ceremony, Pennsauken Police Chief John Coffey took a moment to thank everyone for attending.
"I just want to thank everyone for coming out tonight. We appreciate everything you do for us," says Coffey. "This is just a small sampling of what goes on during the year. A lot of these jobs occurred while most of us were asleep. Our officers are out on the streets. That's got to make everybody sleep a little bit better. We like to arrest the people that are up to no good."