PHS Alum And Super Bowl Champ Speaks To Student-Athletes
By Frank Sinatra, AAP Editor
"So when you dream, dream large. Dream extra large."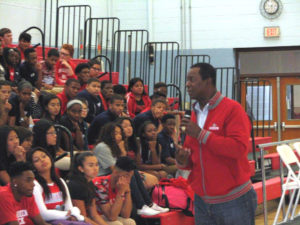 Those are the words of Dwight Hicks '74, a PHS alum who played defensive back for the San Francisco 49ers and is a two-time Super Bowl champion. Hicks, who returned to his home town to participate in the special presentation of several gold footballs from the National Football League in honor of Super Bowl 50, spoke to student-athletes at Pennsauken High School about his experiences growing up in town and has path to playing in college and the NFL.
Hicks explained that when he made the decision to play football at the University of Michigan, some thought that the school was too big and he would get lost. But he persevered and played in the Rose Bowl twice. Selected in the sixth round in the NFL draft after graduation, Hicks was cut not once, but twice, finally sticking with the San Francisco 49ers, one of the worst teams in the league at that time. But he worked hard and never gave up. The result: his outstanding play led him to four consecutive Pro Bowl appearances and two Super Bowl rings.
Hicks told the students that they should set big goals for themselves and visualize success in order to achieve their dreams.
"Visualization of your dreams can make them reality. It's up to you on what you will become. Strive to be the best and challenge yourself. I am you. If I can do it, you can do it."