Revolutionary War Colonial Militia To Muster At Historic Griffith Morgan House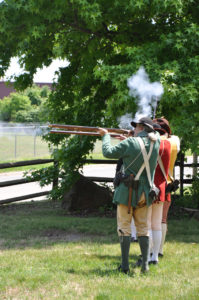 The first Sunday in June at historic Griffith Morgan House will bring to life a muster of the colonial militia when the 11th Regiment of the Pennsylvania Militia performs drills and prepares to take on the "lobster-backs" of the British army in the fight for independence! On Sunday, June 5, from 12:00 to 4:00 p.m., the re-enactors of the 11th Pennsylvania will perform drills and recruit new soldiers, while the women of the regiment prepare a meal for their brave soldiers at the hearth of Griffith Morgan House and perform the other domestic tasks so important to support the men in the field. This day of living history on the level of the common soldier of the Revolution will also feature free tours of the historic colonial home of the Morgan family and access to the museum of local history. 
As more of the Revolutionary War was fought in New Jersey than in any other colony, the troops of all thirteen colonies marched over our roads, camped on our farms, and trained beneath our trees for the struggle to secure independence from the British crown. The beat of the drum will sound and musketry may crackle again, for one day at least, as the call to duty is raised from our own, historic Griffith Morgan House!
Admission is free of charge when historic Griffith Morgan House is open from 12:00 to 4:00 p.m. on Sunday, June 5, rain or shine, and the day will also include free tours of the colonial house and museum and light refreshments will be offered.  Plenty of free parking is readily available for cars and bikes.
Historic Griffith Morgan House will again be open to the public for free tours and access to the museum, library, and volunteer staff on July 3, the first Sunday in July, from 1:00 p.m. to 4:00 p.m., a great addition to your Fourth of July weekend!
Griffith Morgan House is located on Griffith Morgan Lane off River Road between Delair and Route 73.  Visit the Griffith Morgan House page on Facebook for more details or directions or call 856-486-9561 and leave a message for more information.  Griffith Morgan House is also open between special events for visits and tours by appointment.