State Senate President Sweeney Visits Pennsauken High School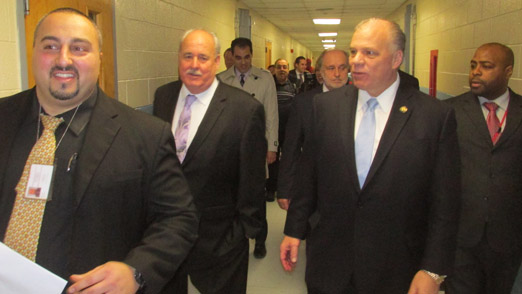 By Frank Sinatra, AAP Editor
On Feb. 7, New Jersey Senate President Stephen M. Sweeney toured Pennsauken High School and sat down to talk with students. During his visit, Sweeney, who grew up in Pennsauken and went to school at PHS, spoke of the importance of supporting initiatives that fairly fund education throughout the state.
"We believe that we can fund schools properly and give people an opportunity to get that brass ring, to get that next career," explains Sweeney. "You should be able to follow your dream. But if we don't fund schools properly, it makes it pretty hard to do that."
"Pennsauken is a great high school. And what makes it so great is the people," adds Sweeney. "It seems like generationally it doesn't matter; the community, the tightness, stays."
Sweeney, who toured PHS with school district staff and representatives from the Township's administration, was impressed with the plans currently in development at the high school, particularly the formation of the academies and the new focus on vocational trades.
"I'm an ironworker by trade; that's why I was so interested about the vocational component that the school is talking about," says Sweeney.
The state senator also spoke about what makes Pennsauken special: that it's a diverse community that works together.
"Schools like Pennsauken look like the state," explains Sweeney. "We want to see schools like this be exactly how they are right now, because this is how it was when I grew up. People worked together, they don't see color. They see a person as a person. That's how Pennsauken always was. It was a very well-blended community and we were all friends. As this state becomes more diverse, you want the schools to be more open and adaptive and receptive.
"This is New Jersey. It's what makes us a great state and a great country. Diversity strengthens us, not weakens us."
After the tour, Sweeney sat down with several students from the high school and asked them about their goals. They wanted to go into a variety of careers, including business, health care, and journalism.  And while their fields of study differed, there was a common theme in their statements: Pennsauken High School and their teachers have helped to prepare them for the next step in their lives.
"It's great. I love it here. It's like a family atmosphere," explains senior Asia Davis. "We talk about [the importance of having a diverse community] all the time, especially with our teachers."
"Teachers in Pennsauken care about you and really want to see you succeed," adds senior Selena Carter. "They go out of their way to help."
"They go the extra mile," says senior Michelle Bello. "I can go to teachers that I don't even have any more with something I'm concerned about or just to get another opinion in my life. They remember you and they have your back."
Pennsauken School District staff and the Township officials in attendance were appreciative of State Senator Sweeney's visit and his focus on providing additional school funding to communities like Pennsauken.
"We would like to thank Senate President Sweeney for returning to his home town and school to talk about the importance of properly funding education," says Deputy Mayor Jack Killion. "Providing additional funding for our schools can only lead to a stronger community."
"More funding will enable us to add teachers and staff, introduce new programs, and upgrade facilities, which will only add to the educational opportunities for our students," adds Dr. Ronnie Tarchichi, superintendent of Pennsauken schools. We're glad that State Senator Sweeney, who grew up in Pennsauken, is championing this cause."