Team Pennsauken Rides In Police Unity Tour
A group of local police officers are joining together to honor the memories of those who lost their lives in the line of duty.
Team Pennsauken is made up of members of the Pennsauken and Merchantville Police Departments who will be riding bicycles with the Police Unity Tour Chapter II. The three-day Police Unity Tour will begin in South Jersey on Wednesday, May 10, 2017. The Tour will visit some of the towns where officers have fallen in the line of duty before departing New Jersey en route to the National Law Enforcement Memorial in Washington DC. The officers will bicycle close to 300 miles during the tour.
The primary purpose of the Police Unity Tour, a 501(c)(3) non-profit, is to raise awareness of law enforcement officers who have died in the line of duty. Team Pennsauken rides for Officer William Brey, who was killed in the line of duty on May 15, 1987; Officer George Bowman, killed in the line of duty September 3, 1995; and Officer Richard Dawson, who was seriously injured in the line of duty on September 7, 1974 and later died from his injuries on March 7, 1999.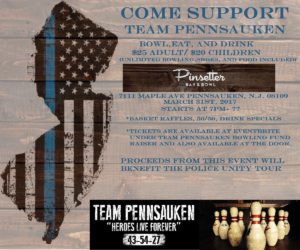 The secondary purpose of Team Pennsauken is to raise funds for the National Law Enforcement Officer's Memorial and Museum.
To raise funds for the Police Unity Tour, Team Pennsauken is hosting a special fundraiser at Pinsetter Bar and Bowl, 7111 Maple Ave., Pennsauken on Friday, March 31 beginning at 7:00 p.m. The event features unlimited bowling, free shoe rental, complimentary buffet, basket and 50/50 raffles, drink specials and more. Admission is $25 for adults, $20 for children; and 100 percent of the proceeds benefit the Police Unity Tour. Tickets are available via Eventbrite as will also be sold at the door.
For those unable to attend the event and would still like to donate, checks can be made out to FOP Lodge #3 Team Pennsauken and mailed to 871 Engard Ave., Pennsauken, N.J., 08110.