Pennsauken Lions Club Honors Mgsr. Mike Mannion As Citizen Of The Year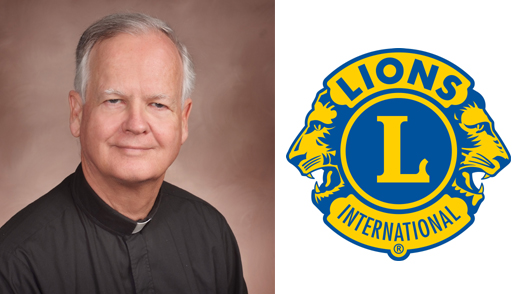 Mgsr. Mike Mannion, a priest for the Diocese of Camden and Pennsauken native, has been selected as the Pennsauken Lions Club's Citizen of the Year for 2015.
As a child going to Saint Cecilia's School in Pennsauken, Mannion's parents instilled in him a sense of giving back to those less fortunate. Fast forward to today: Msgr. Mannion has devoted his life to his community, children in need, pilgrims, refugees, and countless others. He's built community homes from the ground up, advanced his studies in Rome, counseled people in need in war torn Uganda, and worked alongside Mother Teresa in India, even serving as a commentator on CNN for her funeral.
Msgr. Mannion, who currently serves as the director of Community Relations for the Diocese of Camden, has been involved in many ministries over the course of his career. He volunteers his time as chaplain to Pennsauken's Police Department, the FBI's Philadelphia Division, and many other community and law enforcement organizations. As rector of the Cathedral of the Immaculate Conception in Camden, he established strong relationships with area community leaders, non-profits and law enforcement agencies. Active in pro-life work, both in the Diocese and internationally, he has worked with the Diocesan Pro Life office and as a moderator for Project Rachel, a ministry to women who have had abortions. His most recent passion in the service of others is his work with Discovery Ministries, a retreat program for youth, young adults and families. Msgr. Mannion is currently in residence at Mary Queen of All Saints Parish in Pennsauken, NJ.
A dinner in Msgr. Mannion's honor will be held on Monday, June 22 at 6:30 p.m. That evening is also the Lions Club's youth appreciation night for the Leos of Pennsauken High School and Boy Scout Troop 118. The dinner is currently scheduled to be held at Macaro's Deli and Catering on 6225 Westfield Ave., but due to an anticipated larger crowd, may be moved to another venue to accommodate guests. To RSVP for the dinner, e-mail PennsaukenLionsClub@gmail.com or call (856) 663-4043. The cost per person is $12.
Annual Pancake Breakfast A Success
The Pennsauken Lions Club held another successful Ned Davis Memorial Pancake Breakfast on April 19. The Lions would like to thank PYAA for the use of the field house, as well as the following businesses who supported this event: Aunt Charlotte's Candies, Chick-fil-A, Deluxe Bakery, Dunkin' Donuts, Herr's, Jerry's Flowers, Macaro's Deli and Catering, McDonald's, the Penn Queen Diner, Perkins Restaurant and Bakery, ShopRite of Cinnaminson, Steak 38, Subway, Tastykake, Troy's Place, Tru-Fit Frame and Door Corporation, and US Foods.
Officers Announced For 2015-2016
The Lions Club's year is coming to an end in June and current President Mary Anne McFarland will be stepping down. Sharon Rush, owner of Macaro's Deli and Catering, will be assuming the role of president for the upcoming year.   The 2015-2016 officers are: Sharon Rush, president; Mary Anne McFarland, secretary; William Megargle, treasurer; and Barry Hanson, tail twister. The role of vice president has yet to be filled.
The new officers will be installed at the June 22 meeting.